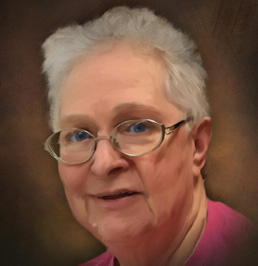 Sharon Kaye Hargis, 79, formerly of Carmi, Illinois, died Wednesday, March 13, 2019, at Transcendent Healthcare North in Booneville, Indiana.  She was born August 1, 1939, in Mulkeytown, Illinois, the daughter of Hugh and Maude (Naylor) Somers. She was married to John F. Hargis on August 2, 1957, and he preceded her in death on February 25, 2009.
Sharon was a homemaker and very active member of First Christian Church in Carmi where she worked many years in the church office.
Survivors include sons John Leo (Sherry) Hargis of Benton, Illinois, Jaron (Morgan) Hargis of Evansville, Indiana; daughter Kim (John) Moskoff of St. Louis, Missouri; brother Bill (Nancy) Somers of Granite City, Illinois; grandchildren Stephanie Hargis, Adam Hargis, Chase McCord, Kindsay McCord.
She is preceded in death by her parents; and husband.
Visitation and funeral are Saturday, March 16, 2019, at Cook Funeral Chapel in Carmi.  Visitation is noon and funeral is at 2:00 pm. Burial is in North Maple Ridge Cemetery in Carmi.
Memorials may be made in Sharon's memory to Alzheimer's Association, 225 N. Michigan Ave., Fl. 17, Chicago, IL 60601 or online at www.alz.org.