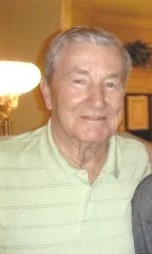 84-year-old Salem, Missouri, resident Richard Lee Gidcumb died on Wednesday in his home after a long battle with COPD. He was born on June 29, 1935, in Harrisburg. He was the son of the late Joseph and Ruth (Curtis) Gidcumb. Richard attended school at Harrisburg High School, was honorably discharged from the US Marines, and graduated from the Illinois State Police Academy.
On March 24, 1961, he was united in marriage to Lee Catherine Fischer in Elgin. Richard was a member of New Harmony Church of Salem and enjoyed life to the fullest. Some of the activities included all kinds of board games with the family. He also had a passion for hunting bottles and arrowheads. He was an avid golfer, but he had a creative side, as well, as he made furniture and wind chimes.
Richard Gidcumb is survived by his wife, Lee of Salem; sister Dianna Reese of Harrisburg; sons David (Catherine) of Salem and Roger (Tracey) of McLeansboro; daughter in law Carol Bough of Wheeler; six grandchildren: Joshua (Michelle) of Salem, Erin (Noah) Rienks of Rolla, Missouri, Caleb (Marisha) of Salem, Zack (Sydney) of McLeansboro, Zeb of McLeansboro, and Kelley (Ben) Mowrer of Mt. Vernon; and 13 great-grandchildren: Aiden, Jackson, Isaiah, Alexa, Wyatt, Zayden, Hayden, Haddie, Zaylin, Ella, Jude, Anson, Samual.
He was preceded in death by his parents; brothers Doug, Winston, and Cliff; and son Gary.
Visitation for Richard Gidcumb will be held on Friday (October 4th) from 11 a.m. to 1 p.m. at the Blooming Grove Baptist Church in McLeansboro. A memorial service will follow.
In lieu of flowers, donations may be made to St. Jude's Children's Hospital.
Harre Funeral Home in McLeansboro is in charge of arrangements.