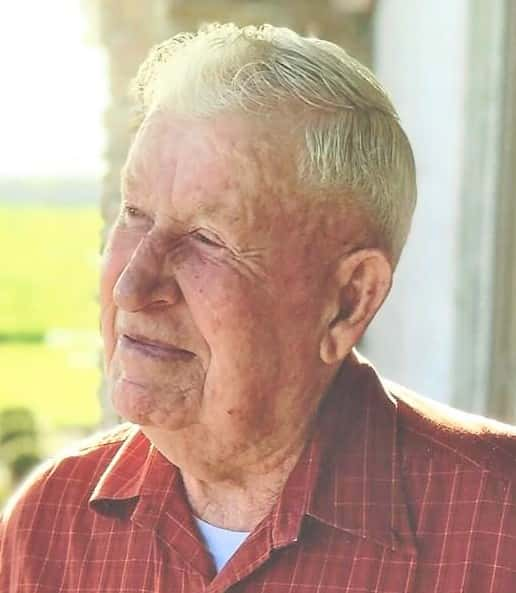 Max Dwain Green, 94, of Fairfield, passed away at 3:05PM on Monday, September 30, 2019 at Lavender Ridge Memory Care in Mt. Vernon, IL. He was a lifelong farmer, where he operated a cattle and grain farm southwest of Fairfield, in the New Hope community.
Max was born on April 25, 1925, in Ellery, IL, to Clarence and Katie (Fisher) Green. Following the death of his parents while he was still young, Max was raised in the home of Thomas and Louella Smith of Ellery. On February 11, 1949, he married the love of his life, Anna Aline Harlan. They moved from the Ellery area to the New Hope community and were  blessed with over 68 years of marriage before Ann preceded him in death on January 10, 2018.
Max was a longtime member of the Wayne County Farm Bureau Board. He was also a former member of the New Hope School Board and served on the Union Grove Association Youth Camp Board. He was an active member of the New Hope General Baptist Church, where he served as deacon for over 60 years, was a Sunday School teacher, and a former Sunday School Superintendent.
Survivors include two daughters Marilyn Yates of Flora, Cheryl (Greg) Basnett of Fairfield, one son Max Dee (Ruby) Green of Fairfield, eight grandchildren, nine great grandchildren, three brothers Bob (Betty) Green of Ellery, Jack (Pearl) Green of Alton, IL, and Archie (Betty)  Green of Jacksonville, Arkansas, one brother-in-law William "Sid" Harlan of Marion, IL, one sister-in-law Reta Mathews of Fairfield, along with numerous nieces and nephews. He was preceded in death by his parents, his wife Ann, three brothers Deletis Green, John Franklin Green, and Teddy Ray Green, two sisters Edith Lamar and Elsie Mae Johnson, and his foster parents Thomas and Luella Smith.
Funeral services for Max Green will be at 10AM on Saturday, October 5th, at the Johnson and Vaughn Funeral Home in Fairfield with burial in Maple Hill Cemetery. Visitation will be from 5-7PM on Friday, October 4th, at the funeral home. Memorial donations can be made to the New Hope General Baptist Church and will be accepted at the Johnson and Vaughn Funeral Home which is in charge of arrangements.