The Wayne Chamber of Commerce along with Potts Family Pharmacy of Fairfield are excited to announce a Ribbon Cutting Ceremony to celebrate their Grand Opening today at 12:00 PM.  Potts Family Pharmacy is owned and operated by Stephan and Tiffany Potts of Fairfield. Stephan and Tiffany along with their 4 boys reside in Fairfield. They also welcome Ashley Gonzalez- pharmacy technician and Ethan Clutter- pharmacy technician to the team. Potts Family Pharmacy is located in the Save A Lot building at 709 West Main St., Suite A.  Hours are Monday through Friday 8:30 AM – 5:30 PM.  Grand Opening will be Saturday September 10.
The Wayne County Board met for its monthly meeting Thursday evening with 11 board members present to work through a very light agenda. Southern 14 Workforce Investment Board Executive Director Pam Barbee addressed the board, explaining the services provided by the organization.  The organization serves the counties of Wayne, Edwards, Wabash, Hamilton, White, Saline, Gallatin, Union, Johnson, Pope, Hardin, Alexander, Pulaski, and Massac. Board member Shane Neuman and Fairfield resident Beth Wilson serve on the organizations board. County Clerk Lizann Woodrow briefed the board on the recent mailing her office sent out to every active Wayne County voter regarding requesting a ballot by mail. She stated that the mailing was mandated by the government and the total cost to the county was $10,000, which she stated was not in her budget. She further explained that approximately 300 requests had been returned so far. The board approved entering into a Maintenance Agreement with JE Shekell for the courthouse heating and air conditioning systems at a semiannual cost of $2,313.00. The board felt a maintenance agreement will make sure all required maintenance is completed on the systems, which should eliminate issues caused by lack of maintenance. The board voted 8-3 to amend the county's Liquor Ordinance to allow establishments to open Sunday at 12 noon instead of 12:30. Those voting No were board members Gene Kollack, Daryl Hargrave, and Bill Bruce. The County Highway Dept. reminded drivers that work has begun at the intersection of 161 & Enterprise Rd. The work is expected to be completed sometime in October.
On 9/7 at approximately 9:30 pm, Deputies with the Wayne County Sheriff's Office with assistance from the Wayne City Police Department arrested 43-year-old Paxton D. Bruce of Wayne City and 35-year-old Heather N. Crow of Evansville in a large-scale methamphetamine distribution case. These arrests were the culmination of an extensive investigation by the Wayne County Sheriff's Office. After the arrests of the suspects, deputies executed a search warrant at a rural Keenes residence and Bruce was also found to be in possession of a loaded altered "sawed Off" shotgun with additional suspected methamphetamine. Bruce Paxton was charged with Delivery of 15-100 grams of methamphetamine, possession of methamphetamine 15-100 grams, possession of firearm by a felon, and unlawful use of weapon. Heather Crow was charged with Delivery of 15-100 grams of methamphetamine, and possession of methamphetamine 15-100 grams.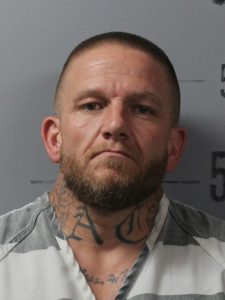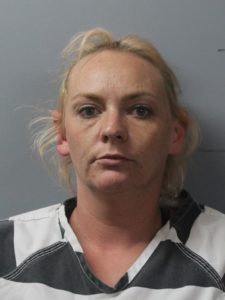 Illinois State Police District 19 Interim Commander, Lieutenant Kerry Sutton has announced the results of a Nighttime Enforcement patrol conducted in Wayne County during September. This NITE patrol allowed the ISP to focus on preventing, detecting, and taking enforcement action in response to impaired driving and occupant restraint violations especially between the hours of 9 p.m. and 6 a.m. Troopers wrote a total of 10 citations and 33 written warnings including eight Registration Offenses, two Driver's License Offenses, and three insurance violations. Alcohol and drug impairment are factors in more than 30% of all fatal motor vehicle crashes in Illinois. Over half of all fatal crashes in Illinois occur at night. The NITE program allows officers to work even harder at removing dangerous impaired drivers from the road and making sure everyone is buckled up. This project is funded through the Illinois Department of Transportation who remind you to "Drive Sober or Get Pulled Over."
The Tax Increment Financing Committee of the City of Fairfield will conduct a Committee Meeting on Monday, September 12 at 5pm at City Hall. Items on the agenda include Building Renovations for the New Wayne County Fair building located at 1317 West Main and Building Rehabilitation for Farmer's Daughter at 203 E. Main.
The Grayville City Council will meet in regular session on Monday, September 12 at 7pm at City Hall. In old business the council will discuss the Water Filtration Plant, ISP Health and Welfare Fund Demand for Payment Audit 2016-2022, Security Camera System Quotes, and OSLAD Grant Application. In new business the council will hear the first reading of Ordinance 928 to Join and Appoint Representatives to the W2E Board of Directors, first reading of Ordinance 929 Approving Developer's Agreement, Economic Development Agreement for Retailer's Occupation Tax Rebate, and the Friends of Grayville request for the October 1 Car Show.
The Bill Bruce Memorial Softball Tournament will be held on Saturday, September 10th starting at 9am. The tournament will be two games, and teams are seeded. #1 Fairfield will take on #4 Cisne from 9 – 10:30am, and #2 New Hope will face #3 Jasper from 10:30 – Noon. Losing teams play and winning teams play. Each game will be played according to SIJHSAA regulations. Time Limit, a new inning will not be started after the one hour and 15-minute mark. The top seeded team will be the official scorebook for the game and responsible for keeping time. For more information contact Yvette Combs at 842-2679 or 919-0451.
Saturday, September 10th the North Wayne Ambulance Board will have a Pork Burger Sale at Atwood's Country Financial in Cisne from 10 a.m. until Sold Out. Drinks and Chips will also be available.
The Wayne County Chamber of Commerce and the City of Fairfield would like to invite the public to attend a disc golf clinic on September 11, 2022, from 1:00 PM – 5:00 PM. The Clinic will be held at Bob and Maxine Wood Park at 402 Broadway St. in Fairfield.  The park is a family friendly 9-hole (basket) course and is perfect for beginner to intermediate players.  Eric Gruen will be there to help/instruct.  Disc will be available for purchase the day of the event or you can bring your own disc.  The course was built in 2015 and has been underutilized.  It is the hope of the city, park district, and chamber to make more people aware of another benefit to living/visiting Fairfield. Grab and Go Grill will be onsite serving food during the event.  Make plans to come out and learn or play a new sport.  In the event of rain,  clinic will be postponed. To RSVP go to fairfieldILchamberofcommerce event on Facebook or call the chamber office 618-842-6116.
River stages as of this morning: the Little Wabash east of Fairfield stands at 6.33 feet, below the 17 ft. flood stage. Meanwhile, the Skillet Fork at Wayne City has a reading of 5.28 feet (flood stage is 15 ft.). The Little Wabash below Clay City is at 5.16 feet (flood stage is 18 ft.). Bonpas Creek at Browns reads 1.81 feet. The Little Wabash at Main Street in Carmi reads 4.49 feet, and the Wabash River at Mt. Carmel sits at 4.22 feet.
Today's Crude Oil price is $76.54 up $1.60 from yesterday. The October Crude Oil price is $84.79 up $3.17 from yesterday morning.