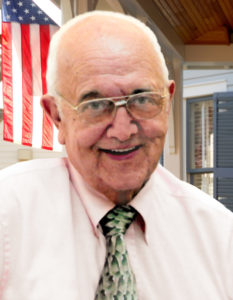 Kenneth Harold Hostettler, age 89, of Clay City, Illinois, passed away Sunday, September 11, 2022, at his home.
He was born August 29, 1933, in Louisville, the son of Harold and Marguarite (O'Dell) Hostettler. He was united in marriage to Beulah Evelyn Hall on June 1, 1954, at the United Methodist Church in Clay City and together they shared 64 years of marriage until her death May 20, 2019.
Kenneth served in the U.S. Navy and traveled overseas. He was the owner and operator of Kenny's Appliance Store in Clay City for over 20 years. He joined the Clay City Volunteer Fire Department in 1971, serving as the Department's Chief for 16 years and serving as the District Chief for 25 years. Kenny and Evelyn had been longtime members of Zif Baptist Church. Kenny enjoyed fishing, camping, gardening, and bird watching. He retired from driving a school bus, and spent countless hours running the Clay City Civics Association which coordinated the summer youth program and the Fall Festival. He was an establishing member of the 911 board and served on the Clay County Housing Board. He will truly be remembered for his genuine service to others and love that he shared with his family.
He is survived by 4 children: Tim (Kim) Hostettler of Clay City, Tracy Hostettler (Sheila Waller) of Clay City, Tony (Jan) Hostettler of Clay City, and Gwen Brown (Kevin Monical) of Flora; 9 grandchildren: Amanda Hostettler (Matthew Monical) of Clay City, Cassandra (Greg) Scott of Altamont, Travis (Felicia) Hostettler of Flora, Eric (Stephanie) Hostettler of Clay City, Chelsea Brown (Brandon Miller) of Bridgeport, Ethan Brown of Sailor Springs, Corrinna (Chris) Caudle of Flora, Skyler DeVore of Clay City, and Tyler (Gabby) Fuentes of Florida; 19 great-grandchildren plus one soon expected great-grandchild; siblings: Marilyn Cox of Flora, Joyce Stockwell of Wheeler, and Garry Hostettler of Ingraham; brother-in-law: Gene Hall of Clay City; sister-in-law: Charlene Hall of Flora; and several nieces and nephews.
He was preceded in death by his parents; wife; a son: Kenneth Wayne Hostettler; a grandson: Steven Hostettler; a great-grandson: Kamden Blanchard; a brother: Ronald R. Hostettler; and 2 brothers-in-law: Carl Cox and Buddy Stockwell.
A funeral ceremony will be held at 1 p.m. Thursday, September 15, 2022, at Frank & Bright Funeral Home in Flora with Kelly Carruthers officiating. Interment will follow in Clay City Cemetery with the presentation of military funeral honors as well as service honors by the Associated Fire Fighters of Illinois. Visitation will be 10 a.m. until 1 p.m. on Thursday at the funeral home. Memorial donations are suggested to Clay City Volunteer Fire Department or Olney Baptist Association Church Camp and will be accepted through the funeral home. To share a condolence or memory, visit: www.frankandbright.com