FCHS Fall Sports Awards
The Mules held their team awards last night. The Mules volleyball team held their awards at the Journey Church. The Ceremony started with Volleyball head coach Chet Snyder thanking the crowd for coming. He then moved to some key milestones that the team hit this season. The team finished with a overall record of 33-6 the 2nd most wins in FCHS history, BDC champs for the fifth straight time, regional champions, Emerson Robbins set the school record in kills and Rylee Edwards set the school record in assists. As far as awards go here is how it went: Freshman most improved Libby Kline, Most Improved JV Lilly Gacek, most improved varsity Kate Book, Defensive player of the year Lucy Britt, Team MVP Emmerson Robbins and Lady Mule Award Kaylie Barger. The Mules football team held their award ceremony at 7pm at the FCHS gym. Coach Townsend started by thanking everybody who played a role in this season.  The mules handed out 9 awards and it started with the Most Improved Freshman which went to Lane Robinson. Before handing out the most improved sophomore Townsend talked about how these guys are going to have to step up with Fairfield being a senior heavy team. The sophomore team went 7-1 last year as freshman they had 1 total win on the season. The most improved sophomore went to Nick Masterson. Most improved varsity went to Trey Mason, Mule award Dawson Stewart, Specials Teams award Gabe Todd, Outstanding Defense Reegan Taylor, Outstanding offense Eric Rodgers, the Elks Lineman MVP Payton Allen and Elks MVP Back Luke Sork. Once Johnston City is no longer in the playoff they will announce other awards. Make sure you follow WFIW on Facebook and Twitter to stay up to date. 
### 
Metcalf Advances to FFA State Job Interview 
Members of the Edwards County FFA, Kassidi Metcalf and Gabe Wyatt, recently participated in the Job Interview CDE. Kassidi participated in Varsity and Gabe participated in Junior Varsity. In this event, members have to prepare a resume and cover letter, fill out a job application, do the interview itself, and write a follow-up letter. Kassidi placed 1st at the Section 23 Competition, advancing to district. She also placed 2nd at District and earned a spot to compete at the State Job Interview CDE in June at Springfield. Gabe placed 6th in Junior Varsity and plans to compete again next year.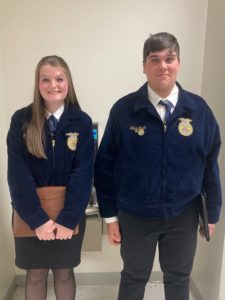 Pictured: Kassidi Metcalf & Gabe Wyatt, members of the Edwards County FFA, did well at FFA Job Interview. 
### 
Firemen Toys For Kids 
Firemen Toys for Kids will take place on Saturday, November 19 from 11:00 am to 2:00 pm at the Wayne City Dollar General store. Get your picture taken with Mr. & Mrs. Claus. Purchase a toy for donation and receive free hot cocoa & cookies; plus get free tickets to enter into lots of different door prize drawings. Firemen Toys for Kids is sponsored by Wayne City Matters. 
### 
Edwards County Board of Education 
The Edwards County Board of Education will hold a Truth in Taxation Public Hearing on Monday, November 21 at 6:45 pm in the WSGS Science Room.  
### 
Illinois Elks Children's Care 
The Mount Vernon Elks 819, Centralia Elks 493, Fairfield Elks 1631, Salem Elks 1678 and McLeansboro Elks 1882 Lodges in cooperation with the Illinois Elks Children's Care Corporation will sponsor a free children's orthopedic assessment clinic on Thursday, December 1, 2022. The clinic is from 2:00 PM to 4:00 PM and is by appointment only. To make an appointment call the Illinois Elks Children's Care office at 1-800-272-0074 between the hours of 9:00 AM to 4:00 PM Monday through Friday. There are no charges for any services at this clinic. 
The Elks will hold the clinic at the Neuromuscular Orthopaedic Institute office of Dr. Alan Froehling. The office is located at 302 Broadway Street, in Mount Vernon.  
No medical referral is necessary for the clinic but physicians are welcome to refer patients to the clinic for a specific reason or second opinion. School nurses are welcome to refer children and families to the clinic. The clinic is an ideal time to have a child reviewed for bone and joint development. 
### 
Trucking Scholarship Available 
The IAA Foundation is accepting applications for the Driving Agriculture Forward Scholarship. The deadline is December 31st for those enrolling in training January 1st through March 31st. 
The IAA Foundation, the charitable arm of the Illinois Farm Bureau, is administering the scholarship to help offset the cost of commercial truck driver training. 
Students enrolled or planning to enroll in a commercial driver training program at an Illinois community college are encouraged to apply.  Five $1,000 scholarships will be awarded every three months and are based on the Illinois Farm Bureau region where the applicant resides. 
All applicants must be Illinois residents and provide proof of enrollment during the corresponding award cycle.  In addition, applicants must submit an endorsement from a farmer, county Farm Bureau leader, agribusiness or food processing business. 
More information is available by contacting your county Farm Bureau, the IAA Foundation at 309-557-2232 or emailing Jennifer Smith, Foundation development manager, at jsmith@ilfb.org. 
### 
Great American Smokeout
Today is the annual Great American Smoke Out, but health experts say you can resolve to quit the habit anytime. The American Cancer Society sponsors the Great American Smokeout on the third Thursday of November challenging smokers to give up cigarettes for 24 hours.  The American Cancer Society says a recent study shows smoking accounts for about 1 in 5 deaths globally, and more than 16 million Americans live with a smoking-related disease. 
Every year the Great American Smokeout draws attention to preventing deaths and chronic illnesses caused by smoking.  From the late 1980s to the 1990s, many state and local governments have raised taxes on cigarettes, limited promotions, discouraged teen cigarette use, and taken further action to counter smoking.  
### 
Thanksgiving to Cost More this Year 
The Illinois Farm Bureau says the classic Thanksgiving meal will cost 13 percent more this year. 
Illinois shoppers participating in the 37th annual American Farm Bureau Federation's Thanksgiving Cost Survey reported an average price of $65.53 for a classic Thanksgiving Dinner for ten.  last year the meal costs $58.15. 
Illinois Farm Bureau President Richard Guebert, Junior says Illinois farmers know the role inflation has played over the last year in driving food costs higher. Farmers have been experiencing higher input prices for over 18 months.  He says increased fuel prices are a significant component of the distribution of food to consumers. 
Turkey, a staple main dish in many Thanksgiving meals, has seen a 21-percent increase over last year nationally.  In total, 11 food items increased in average price and one (cranberries) decreased. The largest price increase is for cubed bread stuffing, up 69 percent. 
American Farm Bureau Federation Chief Economist Roger Cryan says general inflation has been running 7% to 9% in recent months, while the most recent Consumer Price Index report for food consumed at home reveals a 12% increase over the past year. 
Other contributing factors to the increased cost for the meal include supply chain disruptions and the war in Ukraine.  He added that the supply of whole turkeys available to consumers should be adequate this year, although there may be temporary, regional shortages in some states where avian influenza was detected earlier this year. 
### 
River Stages   
River stages as of this morning: the Little Wabash east of Fairfield stands at 5.37 feet, below the 17 ft. flood stage. Meanwhile, the Skillet Fork at Wayne City has a reading of 4.97 feet (flood stage is 15 ft.). The Little Wabash below Clay City is at 4.43 (flood stage is 18 ft.). Bonpas Creek at Browns reads 1.36 feet. The Little Wabash at Main Street in Carmi reads 3.51 feet, and the Wabash River at Mt. Carmel sits at 2.93 feet.   
###   
Crude Oil   
Today's Crude Oil Price is $78.59 down $1.33 from yesterday. The January Crude Oil Price is $84.48 down $2.24 from yesterday morning.   
###